Learn everything you need to know about the different types of cable tension meters, how they work and why they're critical to your business.
What are clamp-on tension meters?
Originally designed for cell phone towers, clamp-on tension meters can monitor and record loads on existing and pre-strung cables and wire ropes. Cell towers contain many supporting lines and cables, and operators must monitor the loads on all these cables and report on them every 6-12 months. 
Like dynamometers, clamp-on tension meters measure the force of a load. But since dynamometers are in-line instruments, they can't measure the tension of a cable that's already connected on both ends. The clamp-on tension meter was developed for applications where the cable is already strung and in use.
Common applications for clamp-on tension meters include cell towers, utilities, highway guard rails, parking structures, and construction.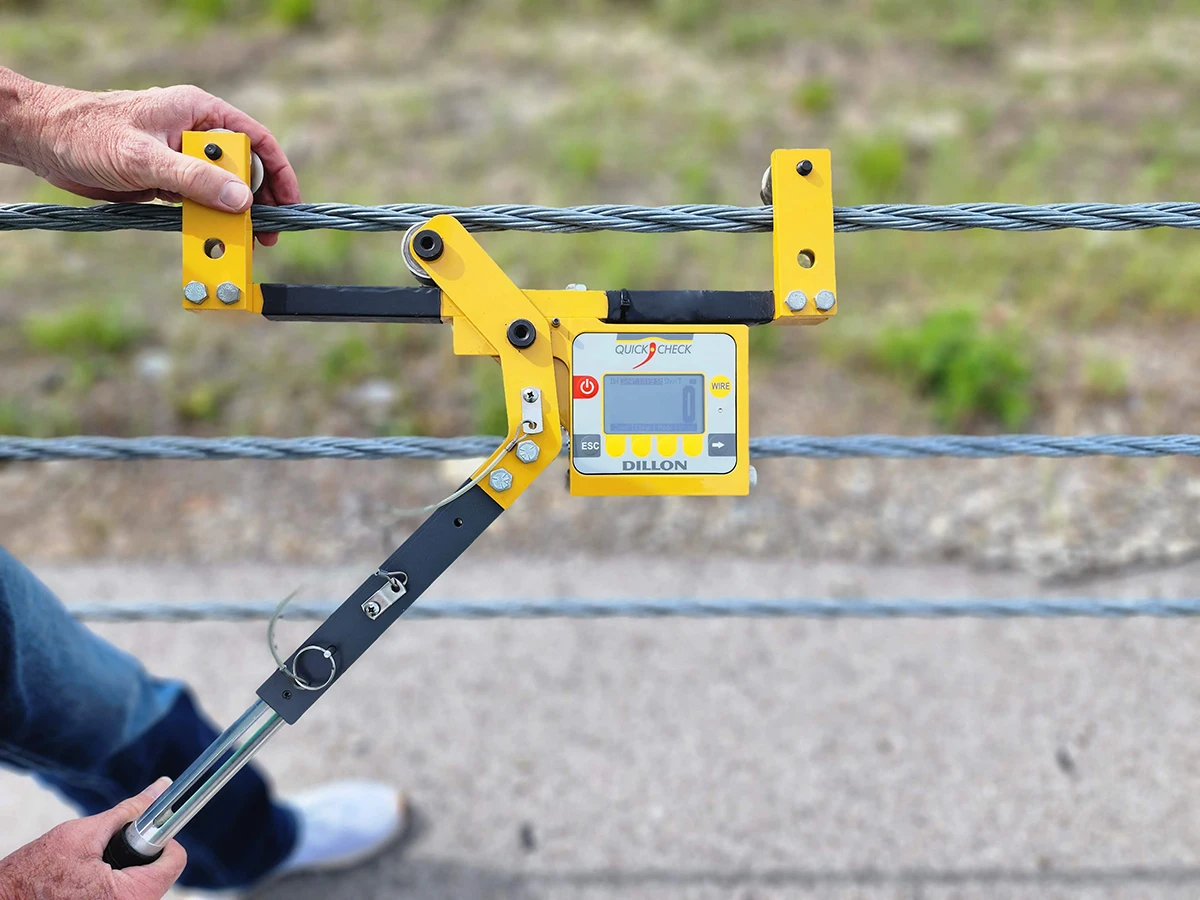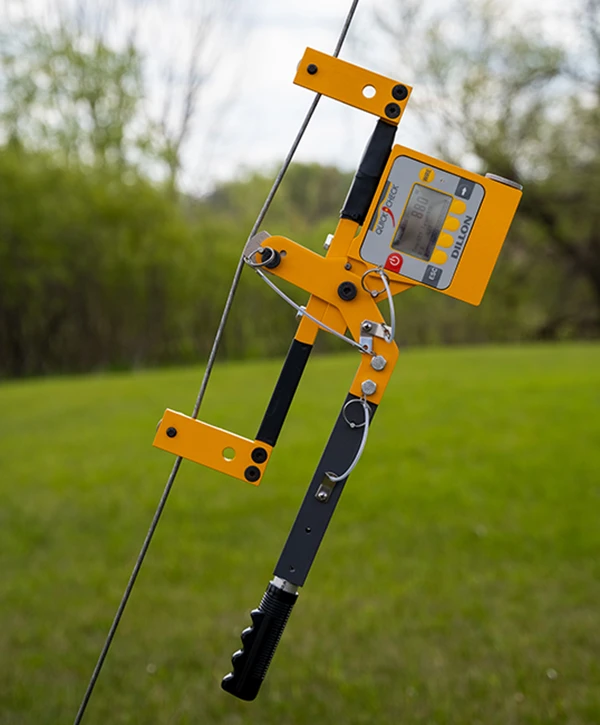 How do clamp-on tension meters work?
Clamp-on tension meters work similarly to dynamometers. When tension force is applied, internal strain gauges deflect and adjust to produce an accurate load reading. Because the size, material, and structure of each cable impacts the load reading, each tension meter must be specifically calibrated to each cable type that it will measure. The cable diameter, number of strands, strand pattern, and material type must be specified for each wire rope to be measured. 
When using the clamp-on tension meter in the field, it is important to select the proper cable and sheaves in order to get an accurate reading. In addition, to ensure the highest accuracy, take 3 measurements from 3 different places on the cable and average the results.
Why is accurate force measurement with clamp-on tension meters important?
Accurately measuring and monitoring tension of installed cable and wire rope is critical for both human and equipment safety. Cables can loosen over time and create safety hazards. For example, in order to ensure that cell towers are safely secured and will not topple, the tension of every cable supporting every cell tower should be measured every 6-12 months.
In order to ensure that your tension meters are operating properly, it is important to send them into Dillon/Quality Plus for annual calibration. Without proper annual calibration, tension meters will not provide the precise measurement needed for many applications.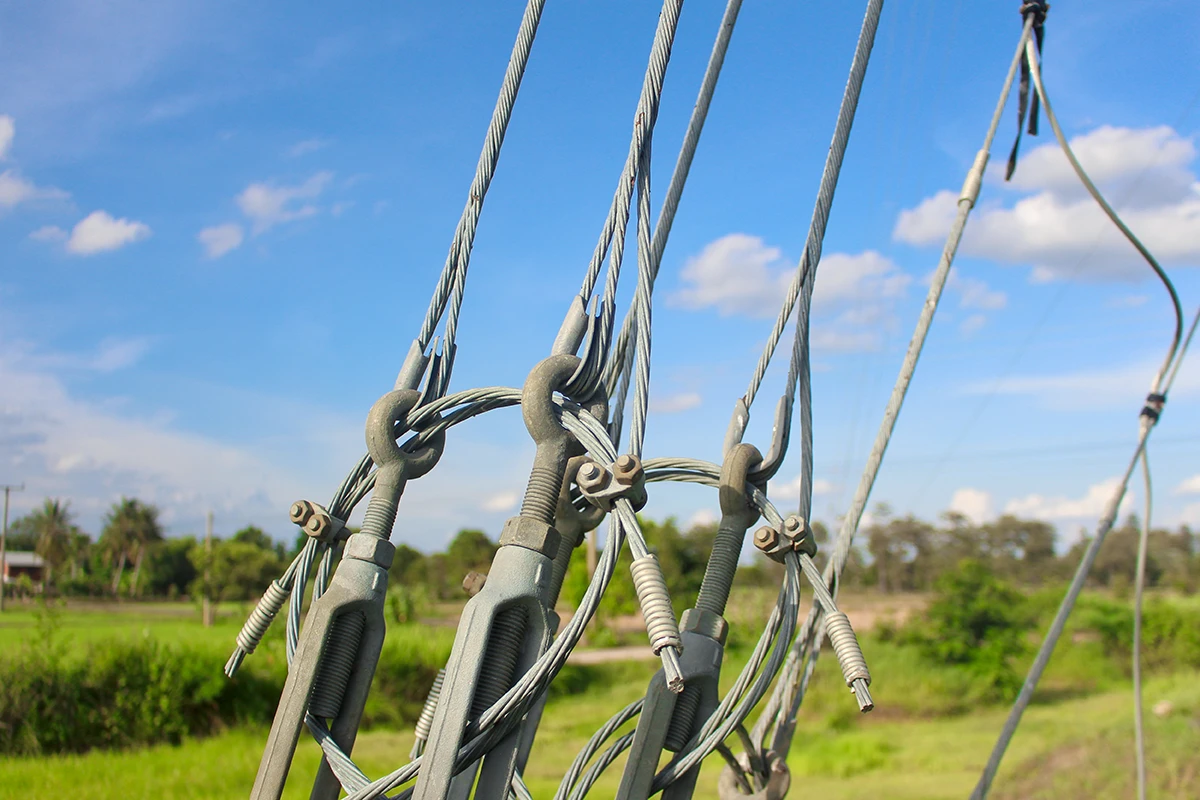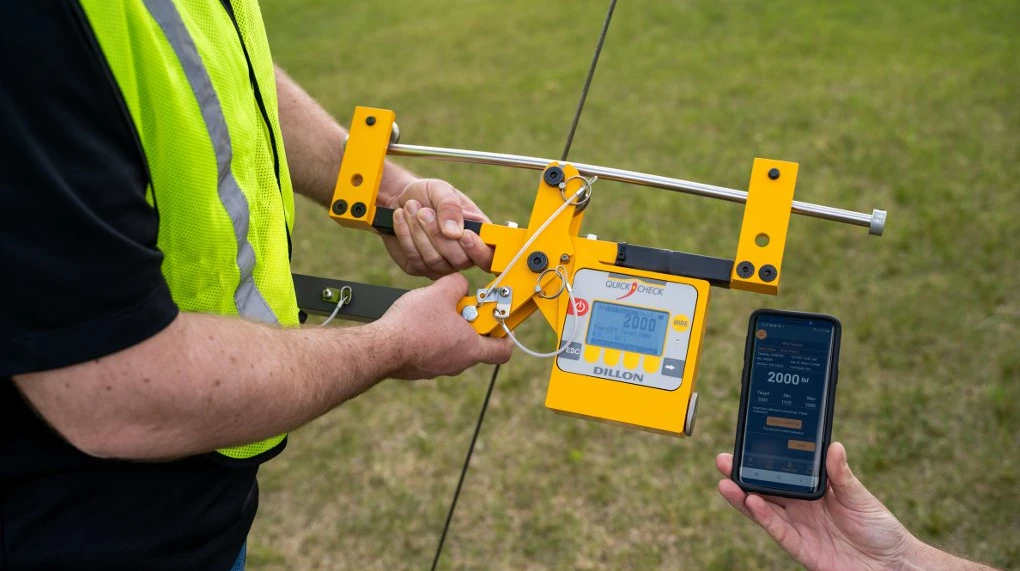 What are the different types of clamp-on tension meters?
We offer a variety of tension meters with different capacity thresholds and varying digital features. The Dillon Quick-Check clamp-on tension meters come in both Bluetooth-enabled (Quick Check-T) and non-wireless models (Quick-Check 2,000lb and Quick-Check 10,000lb). All Quick-Check clamp-on tension meters have a digital display and can store up to 20 different cable types internally. 
The Quick-Check 2,000 lb and Quick-Check 10,000 lb feature a simple design, impressive durability, and unparalleled accuracy. They are not Bluetooth-enabled, but are very easy to use and can store pre-calibrated settings in the device memory. 
The Quick-Check 10,000 lb cable tension meter also comes in a model specifically designed for the cell tower industry. It is pre-configured for the top 16 most commonly used cell tower cables.
If you need a wireless cable tension measurement solution, the Quick Check-T Bluetooth Cable Tension Meter communicates directly with a custom smartphone mobile app, which automates the reporting process.
What factors should I consider when selecting a tension meter?
Take accuracy, capacity, cable diameter, construction of the cable and application into account. If you'll be using the tension meter for cell towers, consider one of the Quick-Check models that come pre-configured with the most common cell tower cables. If you need a wireless solution, opt for the Quick Check-T, which is Bluetooth-enabled.
Depending on the type of tension meter, you'll need to specify different information about your project before purchasing. But don't worry–our expert team is here to help! We not only can help you select the right tension meter, but provide you an accurate quote as long as you know the cable diameter, material, and number of strands.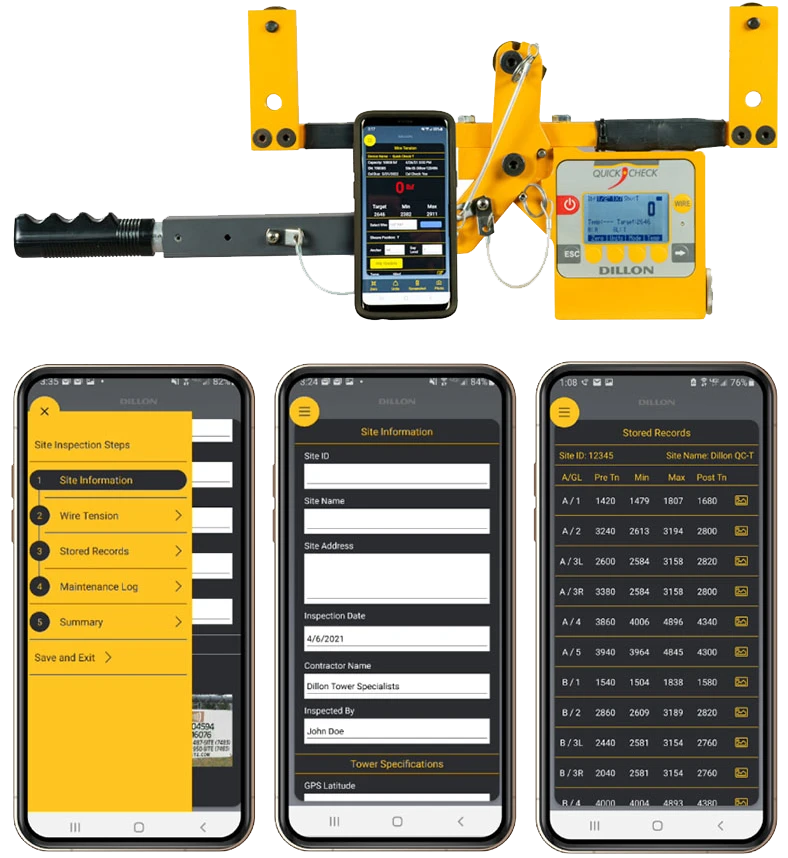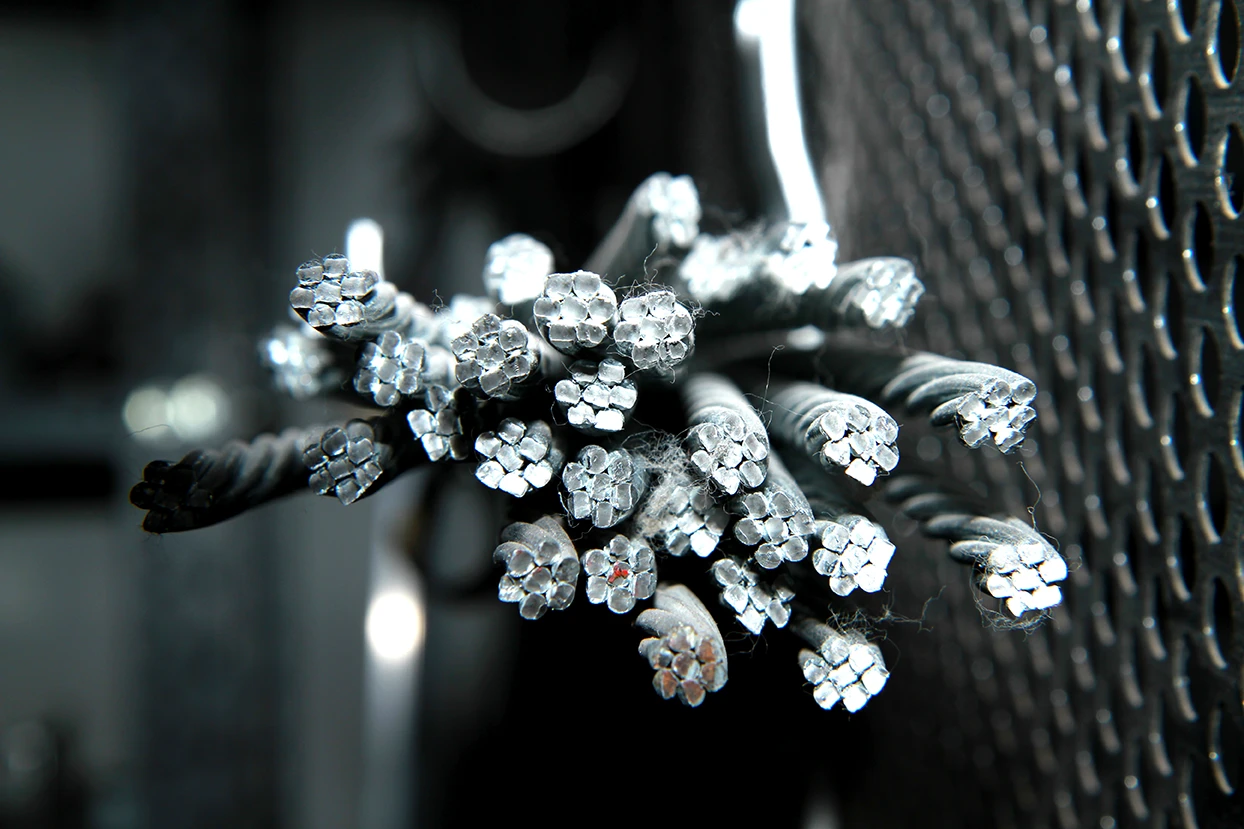 What information do I need to specify to find a clamp-on tension meter?
Each tension meter is customized during the manufacturing process to meet your specific needs, so when you purchase clamp-on tension meters, you'll have to specify the following for each cable you want to measure:
Cable diameter

Number of strands

Strand pattern

Material type
Let's Talk
Ready to get started? Our experienced team is happy to help you find the right tension meter or answer any questions.